Our Pickering Chiropractic Team
Dr. Francine Dallaire, Pickering Chiropractor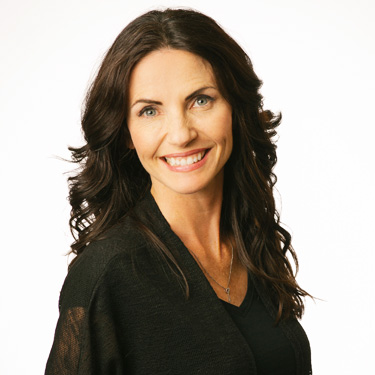 Simply put I was a sceptic. I had been such an unhealthy child; I was on antibiotic after antibiotic for my entire first year of life. As a result, my gut was damaged and I suffered from asthma, allergies and eczema. My mom had tried every thing she could to help me but I continued to suffer with poor health. As a teen, my health challenges continued and I experienced severe and debilitating menstrual cycles. Maxing out doses of prescription pain killers never seemed enough to get rid of the pain and again I continued to suffer.
I was involved in a motor vehicle accident while still in my teen years and hurt my neck. My mom's friend suggested chiropractic. It helped my neck but more amazingly chiropractic helped my body heal and virtually eliminated my severely painful menstrual pains. I no longer was a slave to the severe pain I had endured repeatedly. I never dreamed that chiropractic could do so much for me! That's why I am a Chiropractor today.
I had learned that my body, once proper nerve flow had been restored, had an ability to heal. Also, the nervous system controls the function of all cells and tissues in the body.
I then began the long journey of learning the science, the art and the philosophy of chiropractic. I began my pre-chiropractic education at the University of Toronto where I studied basic sciences such as organic chemistry, biology, microbiology, basic physiology as well as physics and mathematic courses. I then continued my studies at the Canadian Memorial Chiropractic College in Toronto, Ontario. During my four years at CMCC, courses included biochemistry, with a major emphasis on anatomy, human physiology, X-Ray, diagnosis, chiropractic adjusting techniques and patient care in the CMCC public clinic. In addition I completed courses in Pediatric Chiropractic care. After graduating in 1995 I began practicing in Pickering.
I have had the amazing privilege to care for and adjust many infants, children as well as their parents over the years. It is my vision to actively address health issues early and that is why I am hopeful that in following this vision it is possible to improve the health of those in our community. I also have a goal to bring chiropractic to people in other countries that may never otherwise have an opportunity to experience chiropractic and plan on being a participant of a chiropractic mission trip.
Finding balance and harmony with my family life and my practice are always important. As family we love to be active and biking is a big part of our lives. My kids and I also love playing hockey.
I truly believe that so many people have lost faith in their bodies' innate ability to heal. Sometimes our bodies need help. So many of us have lost our way in this crazy busy world we live in and have neglected our bodies and the very thing that we must hold most precious – our health. I believe after seeing many people's quality of life change by improving their health through chiropractic care and in conjunction with my own personal healing experience that it is never too late to try something different – it just might make all the difference!
---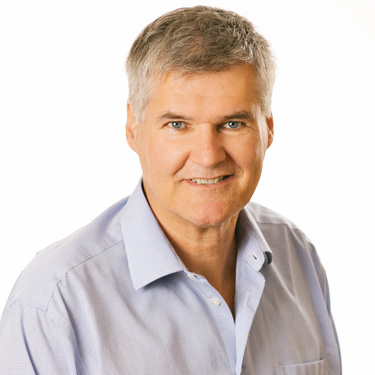 Dr. Robert Sasse, Pickering Chiropractor
Dr. Robert Sasse is a 1984 graduate of the Canadian Memorial Chiropractic College and has been practicing in Pickering for almost 30 years. Before entering chiropractic college, Dr. Sasse did his undergraduate degree at the University of Toronto.
The married father of two daughters and three grandchildren runs a family practice seeing patients of all ages. Dr. Sasse combines his chiropractic care for his patients with nutritional advice and exercise recommendations to form an effective holistic approach to health care.
When not working, you will find Dr. Sasse enjoying the scenic beauty of Georgian Bay at the family cottage, out in the back country backpacking through some of Ontario's remote wilderness or using all his energy trying his best to keep up with three young grandchildren.
---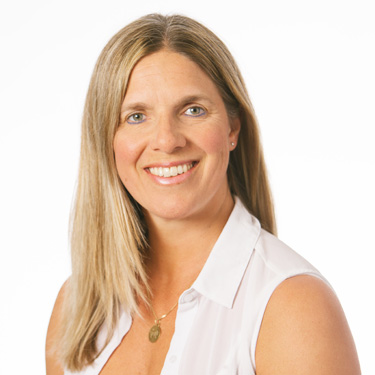 Joanne Miethke, RMT
Joanne has been in our office since 1999. She graduated university with an Honours BA in Kinesiology and has been a Registered Massage Therapist with the College of Massage Therapists of Ontario since 1998. She has been dedicated to improving the overall health and well-being of our clients for many years and continues to pursue optimum health for all of her clients.
Joanne focuses on Deep Tissue Therapeutic Massage and also offers treatments in Lymphatic Drainage, Low Light Laser Therapy, Trigger Point Therapy, Ultrasound, Labour Support Massage, Thai Massage, and Bamboo Massage. She takes great interest in her clients' overall health and in encouraging healthy living leading by example in her own life.
---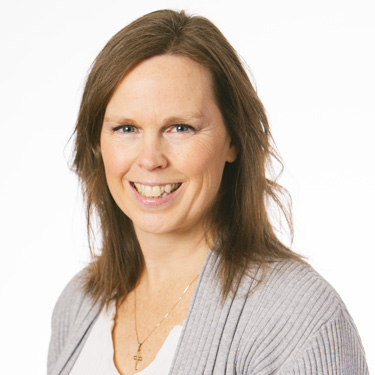 Leigh Puddephatt, RMT
Leigh has been a Registered Massage Therapist since 1996 and working in the Durham Region since 2005. Leigh has experience working a variety of settings and continues her training to keep her skills updated.
Craniosacral Therapy, Reiki and Indian Head Massage as well as Prenatal and Infant Massage are amongst the continued education in Leigh's repertoire. Craniosacral Therapy for adults and children is among the favourite treatments which Leigh provides. Leigh has been enjoying her work at the Chiropractic Centre for Optimum Health since 2012 and is looking forward to continuing to provide the best of care for her clients.
---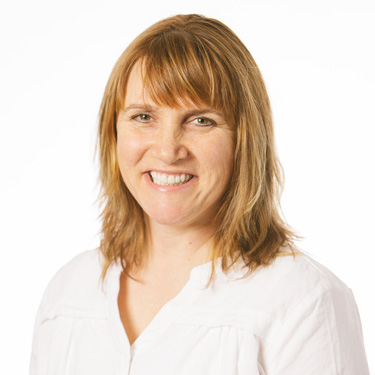 Kristina Wilson, RMT
Kristina has been working the massage therapy environment for a few years now and has been working with Chiropractic Centre for Optimum Health for the past two years.
Kristina provides a therapeutic and relaxing massage by using a variety of techniques. She is dependable, energetic and an ambitious person who is also compassionate with a nurturing touch focusing on the wellness of her clients. She believes that massage therapy is one of the best preventative therapies and should be a part of a wellness plan for everyone.
Kristina also offers Reflexology to her patients. She is committed to remaining current in the health care profession by continuing education, expanding her knowledge base and adopting new therapeutic practices.
---
Jeffrey Haase, RMT
Jeffrey Haase is an experienced Registered Massage Therapist with years of experience in the profession. He has an over 10 year background in Personal Training and the wellness industry where he made it his purpose to help client's transform their minds and bodies through good nutrition and movement. It was this desire to help others that took him in the direction of Massage Therapy.
Jeffrey has a strong knowledge base in therapeutic massage related to sports injuries while also working with all clients, of various ages, to improve their overall wellness. He specializes in facial stretch therapy, cupping- both static and decompression cupping, and the use of Graston tools. With a focus on rehabilitation and addressing injuries and chronic issues, Jeffrey has helped his clients recover and heal from a variety of injuries, reduce pain and increase mobility.
He continues to learn new and innovative techniques and methods to help clients improve their mobility and range of motion resulting in wellness and injury prevention.
---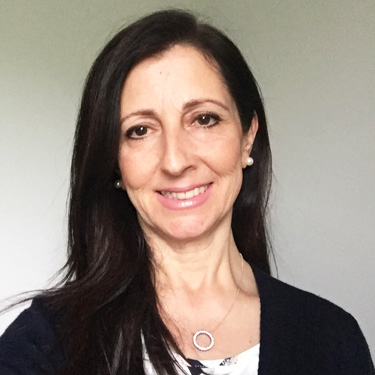 Antonietta Provenzano, Chiropractic Assistant
I have been Dr. Sasse's chiropractic assistant since 2004. I am one of the smiling faces that will greet you as you enter the office as well as one of the pleasant voices you hear on the telephone. My role as a chiropractic assistant include assisting the chiropractor and helping the needs and concerns of the patients.
I am a wife and mother of three children and a long-time resident of Ajax, Ontario. Prior to working at the Chiropractic Centre, I was a stay-at-home mom for many years. For me, being a mother is the most important role in the world! Spending time with family, dinner with special friends, movie nights, walks by the lake, and travelling are just a few of the many things I love to do.
---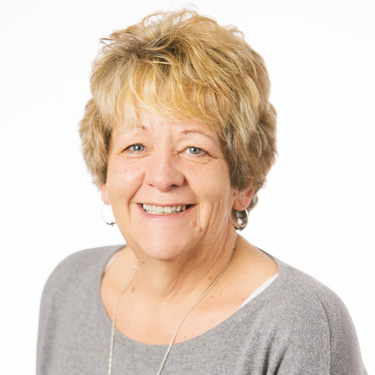 Laure Thorpe, Chiropractic Assistant
Laura joined our dynamic team in 2017 as a chiropractic assistant. She spent 20 years in the marketing research field then found her passion in the healthcare field. She is one of the first people you will meet at our centre and will guide you through your first few visits as you embark on your journey to optimum health. Laura is our laser and spinal scan specialist.
Laura and her family are long time Pickering residents. She enjoys reading, swimming and long walks at the Pickering lakeshore.
---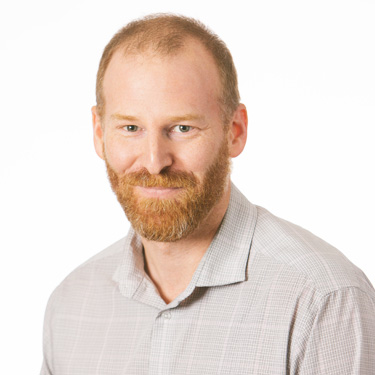 Todd Hrycyshyn
Bio coming soon…
---
If you have any questions or concerns, please feel free to call Chiropractic Centre for Optimum Health at (905) 420-7231.
---
Chiropractors in Pickering | (905) 420-7231